Introduction
Metropolitano de Tenerife (MTSA) is a public transport company established in 2001 with the aim of providing a competitive transport service as railway lines on the island of Tenerife.
MTSA has the commitment of Cabildo de Tenerife for the development of island rail projects, the future extensions and new lines of the tram network and the train projects to the south and north of the island.
Line 2 Extension
DESCRIPTION: Extension of Line 2 tram from Tíncer to La Gallega.
OBJECTIVES: Provide service to the neighborhoods of El Sobradillo, Barranco Grande and La Gallega.
STOPS: with four tramstops: Muñeco de Nieve, El Sobradillo, Barranco Grande and La Gallega.
MUNICIPALITIES WITH STOPS: Santa Cruz de Tenerife.
POPULATION SERVED: 13.849 inhabitants.
LENGTH: 2,5 km.
CURRENT STATUS: Call for tender to drawing up the Project planning.
Line 2 Extensión to La Gallega
All the information about the Line 2 extension Project in this link
Another projects of tram network
EXTENSION OF THE LINE 1 TO THE AIRPORT
DESCRIPTION: Extension of Line 1 tram from Trinity Avenue to the Los Rodeos Airport
OBJECTIVES: Service the San Lazaro district of San Cristóbal de La Laguna and the airport of Los Rodeos
STOPS: 4
MUNICIPALITIES WITH STOPS: San Cristobal de La Laguna
POPULATION SERVED: 9.443 inhabitants
LENGTH: 3.1 km
CURRENT STATUS: Performing the study of alternatives and the basic project.
NEW LINE 3 SECTION TRADE FAIR CENTRE- NORTH PIER
DESCRIPTION: A Section of the new tramline between the fairgrounds and the North Pier of Santa Cruz de Tenerife
OBJECTIVES: Provide service to the neighborhoods of La Salle, San Sebastián, Duggi, Zona Centro, The Hotels, Toscal, Residential Anaga of Santa Cruz de Tenerife
STOPS: 6
MUNICIPALITIES WITH STOPS: Santa Cruz de Tenerife
POPULATION SERVED: 25.317 inhabitants
LENGTH: 3 km
CURRENT STATUS: Performing the study of different alternatives
Tenerife Train Project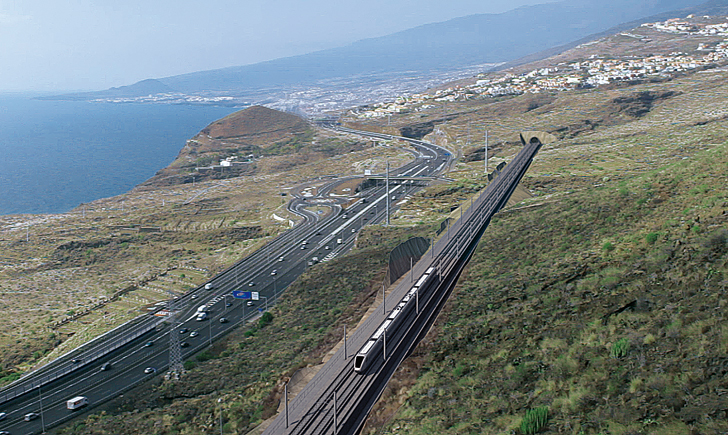 Project planning, financial model, basic and construction projects for the South Train and the North Train.
Construction projects for transport interchanges.
Substation and energy projects.
Freight transport viability.
For further information: www.tenerife.es/planes/