The Island Government and Tenerife Tram supports the Club Baloncesto Canarias
The presidents of the Cabildo and Metrotenerife, Carlos Alonso, and of Iberostar Tenerife (CB Canarias), Félix Hernández, have renewed the collaboration agreement that the entities have maintained since 2012. As on previous occasions, the tram stop Fundación, where the image of the campaign of the Canarian entity is displayed, served to confirm this agreement, which was also attended by the insular director of Mobility, Miguel Becerra; and Tomás Martín, manager of Publiservic, a company that also supports this initiative.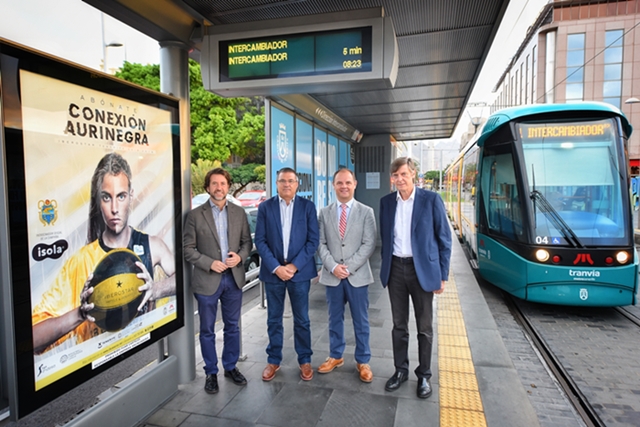 This is a continuation of the line of action implemented in previous editions, centred on promotional actions of the team at tram stops and through Metrotenerife's social networks. The club will promote the use of the tram to go to matches in the Santiago Martín Pavilion. In this sense, it should be noted that from the Hospital Universitario stop there is a signposted route to reach this sports complex, so the tram is an excellent way to go to enjoy the team's games. The agreement also includes the commitment of both entities to develop informative and promotional actions in social projects.