Tenerife tram receives the Technical Innovation of the Year award at the Global Light Rail Awards
Metrotenerife, a company 100% of the Island Government and chaired by Enrique Arriaga, has been awarded the Global Light Rail, the most prestigious of the railway industry. At the award ceremony, held in London, Arriaga received the first prize of the category 'Technical Innovation of the Year', for the device Removable insulating chamber for grooved rail, designed and patented by Metrotenerife.
Arriaga explains that " the jury valued the design of this innovative device that offers electrical and acoustic insulation and allows its replacement of the rail saving time and without the need to carry out demolition works and replacement of road ". Likewise, Arriaga is very proud, as Metrotenerife president, "to receive this award because it certifies the great work done by the company's employees, worthy of being copied by other companies in the sector".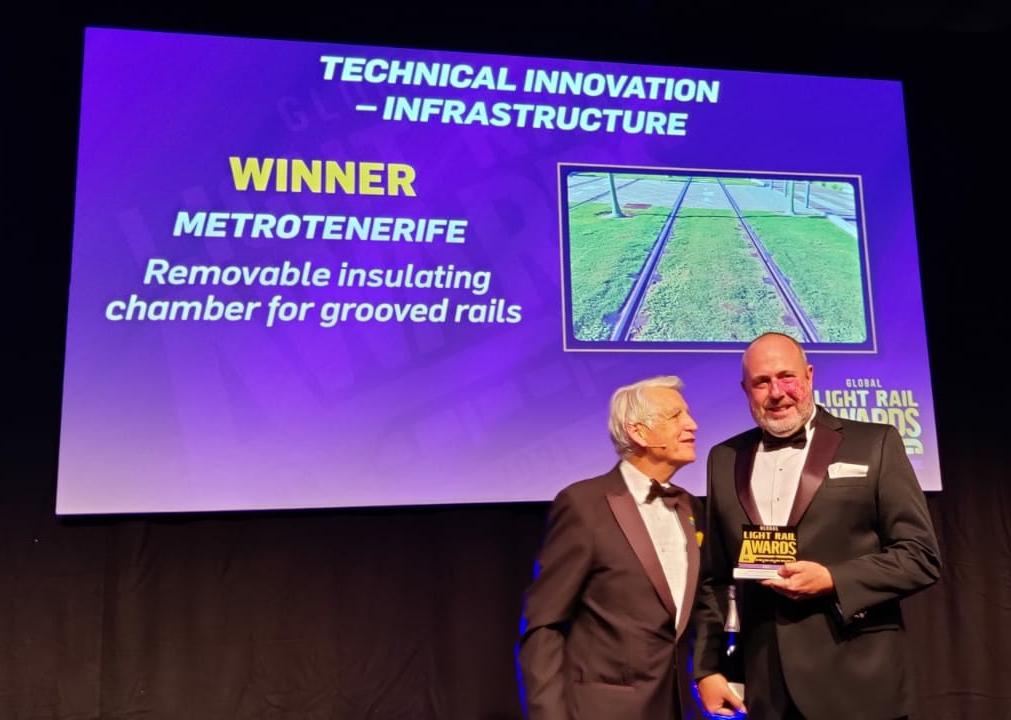 The project team of Metrotenerife, composed of Raúl Parra, Pablo Oromí and Teresa Benet, was also present at the award ceremony. It should be pointed out that the device was also nominated in three other categories: Best Environmental and Sustainability Initiative, Project of the Year and Outstanding Engineering Achievement.
On the other hand, the Global Light Rail Awards have awarded the Special Jury Prize, for his extensive career in the railway sector, to Andrés Muñoz de Dios, who was manager of Metrotenerife until last August. The organization of these awards wants to highlight the promotion of transport in Tenerife that Muñoz de Dios carried out, as well as his presence in the international sector.