The Island Government launches new discounts on public transport
The president of the Island Government, Carlos Alonso, has announced the first measures which will be implemented in the public transport of the Island, tram and buses, within the campaign 'Revoluciona tu forma de moverte' that will mean important benefits for the users. Alonso explained that these first actions consist of reducing the price of Youth Pass and the Metropolitan Month Pass and the creation of the Ten+Child card, which will raise from 5 to 10 years of age the free use of the public transport for the children. The president was accompanied at the press conference by the island director of mobility, Miguel Becerra; the managing director of Titsa, Jacobo Kalitovics; and the Commercial director of Metrotenerife, Gonzalo Umpiérrez.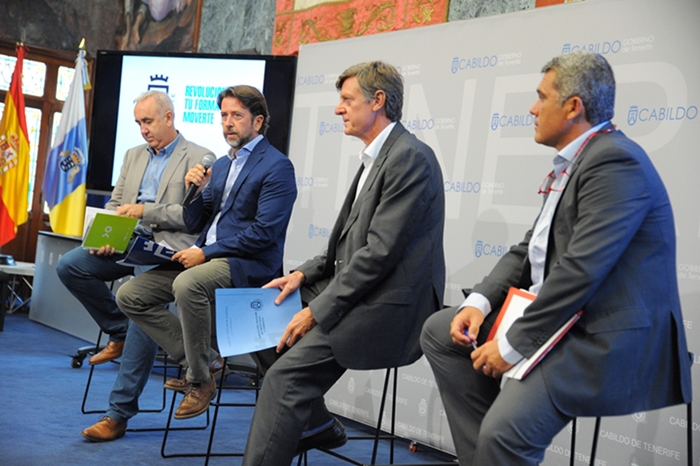 Carlos Alonso highlighted that these measures have been implanted thanks to the new system ten+ and the additional financing of the Canary Government.
In the coming months, other actions will be activated in relation to the fare system or the improvement of the offer with new public transport services. For several years now, the Island Government is working to improve and promote sustainable mobility.
The launching of 'Revoluciona tu forma de moverte' will be developed in mass media and social network, in addition, to an official website, in the external link www.revolucionatenerife.es, with complete information about these measures.
Ten+Child Card
*children under 10 years old
*residents in Tenerife
*free transport until 31st of December of 2018
*valid on the tram and bus services all over the island
*apply for the ten+ card in the external links www.tenmas.es and www.revolucionatenerife.es
Children under 5 years will continue to travel free of charge and without the need for a transport card.
Youth Pass
*Price reduction of 14% *reduction from 35 €/month to 30 €/month
*valid on the tram and buses all over the island
Metropolitan Month Pass
*Price reduction of 11%
*reduction from 45 €/month to 40 €/month * Valid on tram and only on the metropolitan area´s bus network